Hello! I've been meaning to blog but i've been kind of busy recently. I made some meringue nests over the weekend, but they didn't turn out great so no pictures there, lol. While i'm deciding what to do with the 6-layer torted cake that's sitting in the freezer, i'm going to share some pictures of these amazing Ladurée macarons my wonderful friend brought back for me from Paris.
Ladurée and Pierre Hermé are big names in the world of macarons. Laduree is known for being the creator of macarons, with classic flavours like vanilla, raspberry, lemon and chocolate while Pierre Hermé constantly comes out with new and imaginative flavours with modern twists such as huile d'olive à la mandarine (olive oil with mandarin), crème brûlée and foie gras.
I was so excited when i received these macarons, like a little girl receiving her very first barbie doll. I wanted to eat ALL of them but i also wanted to take a million pictures. I set up my little photography corner and spent almost 3 hours snapping pictures in every way i can think of. These macarons are so vibrant, colourful and absolutely amazing to photograph. My pictures don't do them justice, but i did my best! Enough talking, here goes.
There are 18 macarons in this Cristal box, in various flavours. In clockwise direction, green ones are green apple - a seasonal favour, caramel, strawberry or rose?, raspberry (framboise), coffee (café), chestnuts (marrons).
These delicate macarons reached me in pretty good condition despite the long journey. I received them a few days after they were purchased but they still tasted great. The shells were still crunchy and the various fillings were smooth and bursting with flavour. The caramel was a little too sweet for me and the vanilla did not appeal to me much but i particularly enjoyed the Citron (Cédrat) and the green apple.
Look at them, screaming "COME AND EAT ME!"
I also found this amazing digital print while browsing Laduree flavours and just had to share it!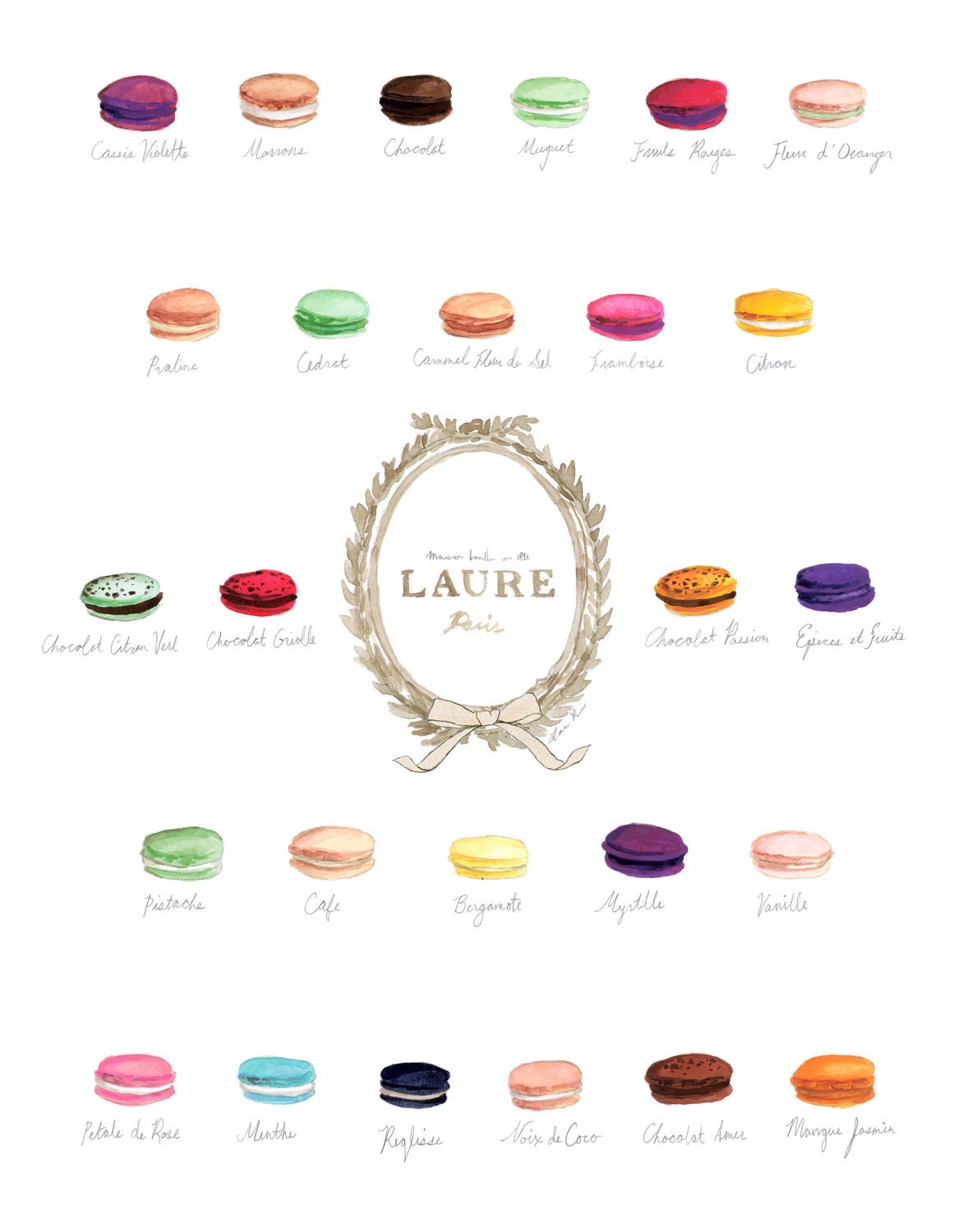 I bought the Ladurée Sucré recipe book a while ago but i don't remember seeing any recipe for the Citron macarons. I would appreciate it very much if anyone has a smilar recipe to share! Oh, and if anyone wants to bring me some Pierre Hermé macarons, well.. :)